Once a vital source of income for families living on the Ptujsko polje, Ptujski lük is now part of a well-preserved tradition and the direct fruit of growers' labour, since most of the production process has remained manual. Only six families still grow Ptuski lük on the Ptujsko polje using the original methods; this has earned them the Protected Geographical Indication certificate.
Though using traditional methods, these growers plant over 1 million onion sets every year, producing over 100 tons of onions!
Erhatič Farm
The Erhatič farm has been growing Ptujski lük using integrated methods since 2007. The farm has been run by Janko Erhatič since 1994 and on their 24 ha of land the family raises cattle and grows vegetables and other crops. The Erhatič family currently has 10 dairy cows, as well as other cattle. The four family members working on the farm always provide their customers with the best produce and are especially proud of their Ptujski lük, their potatoes, and their beetroot – which take up most of their time and attention.
Majerič Branko and Vasja
The Majerič farm lies in the heart of the Ptujsko polje, in Moškanjci. This longstanding farm grows two types of vegetables in addition to crops such as wheat, maize, sunflower, and oilseed rape. The farm produces white cabbage for fermentation, as well as the 200-year-old indigenous onion variety Ptujski luk. Given that this variety is an established specialty and a traditional crop of the Ptujsko polje region, special effort is put into its cultivation, with the aim of preserving it for future generations. The farm is dedicated to offering their customers a local product, grown in Slovenian soil, by cultivating the first vegetable in Slovenia to earn the coveted Protected Geographical Indication certificate, and the European protection label in December 2011. The farm's methods have been monitored since 2002; they grow their vegetables in designated fields, using crop rotation and best agricultural practice.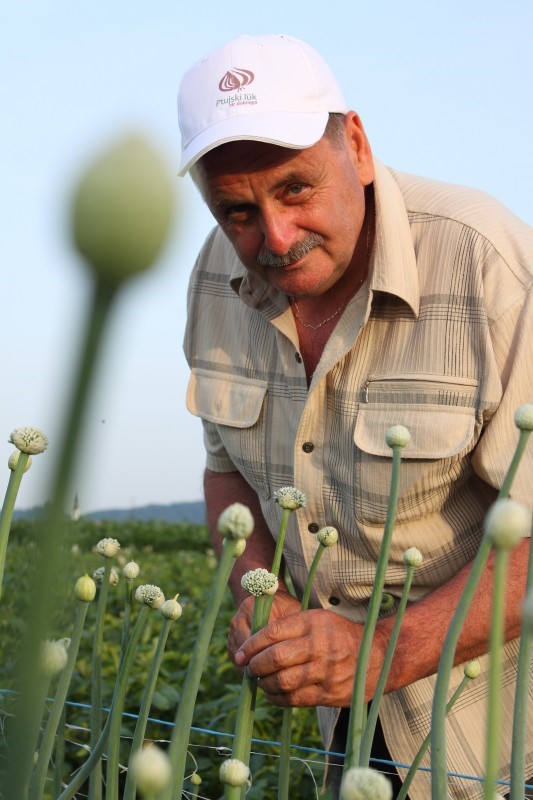 Petrovič Anica
The Petrovič farm in Prvenci is a small, mixed farm, which raises livestock and grows various crops. They have been cultivating Ptujski lük since 2007 and obtained the Protected Geographical Indication certificate in 2011. They were inspired to start growing Ptujski lük by Miran Klinc, and the whole family is involved in this work.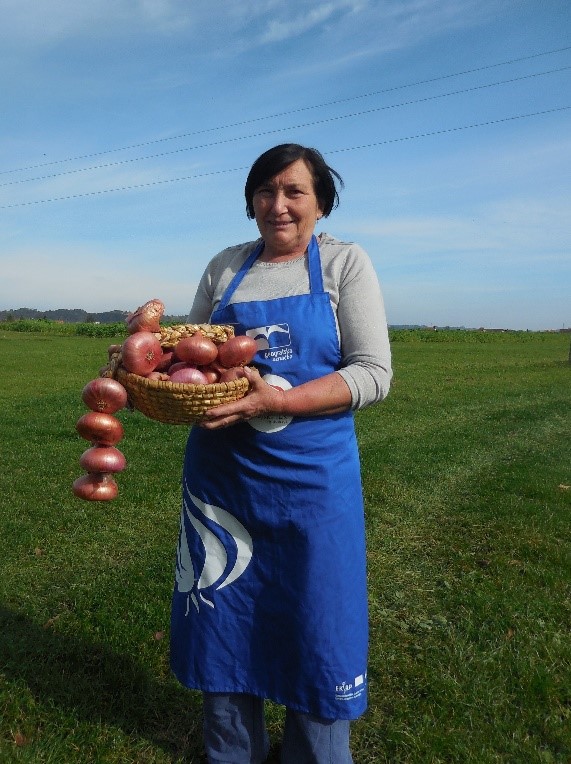 Janez Horvat – Gočlova farm
Gočlova farm is one of the oldest farms to grow Ptujski lük and is now protected as a piece of cultural heritage. It lies in the heart of the Ptujsko polje, in Zagojiči next to the chapel in the Gorišnica municipality. The name 'Gočlova' farm first appeared in historical records in 1322, and the owner's ancestors have been growing onions on this land for over 300 years. They would transport the onions via horse and cart to Maribor and Ptuj farmers' markets, where they sold them braided or in bags per kilo. According to the owner's grandmother, they also sold the variety to Viennese nobles!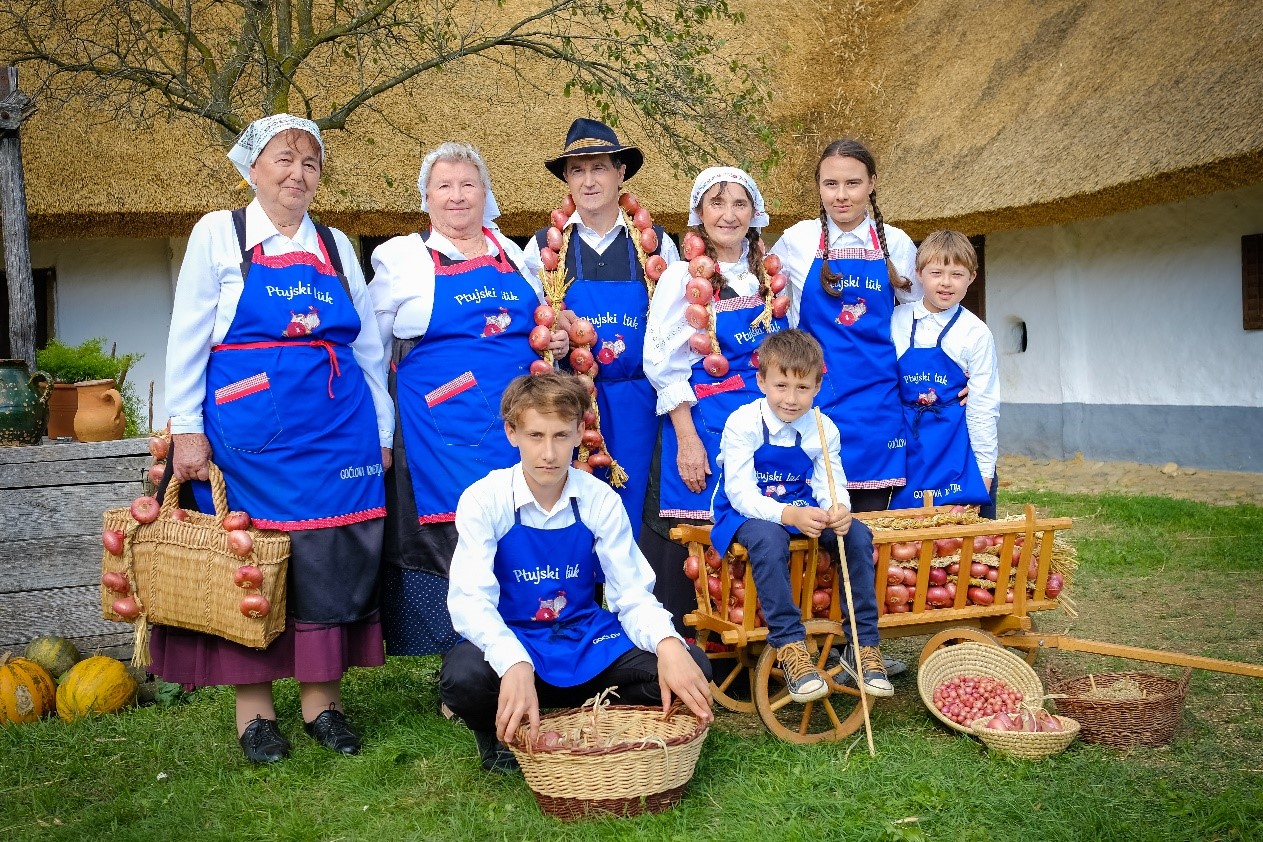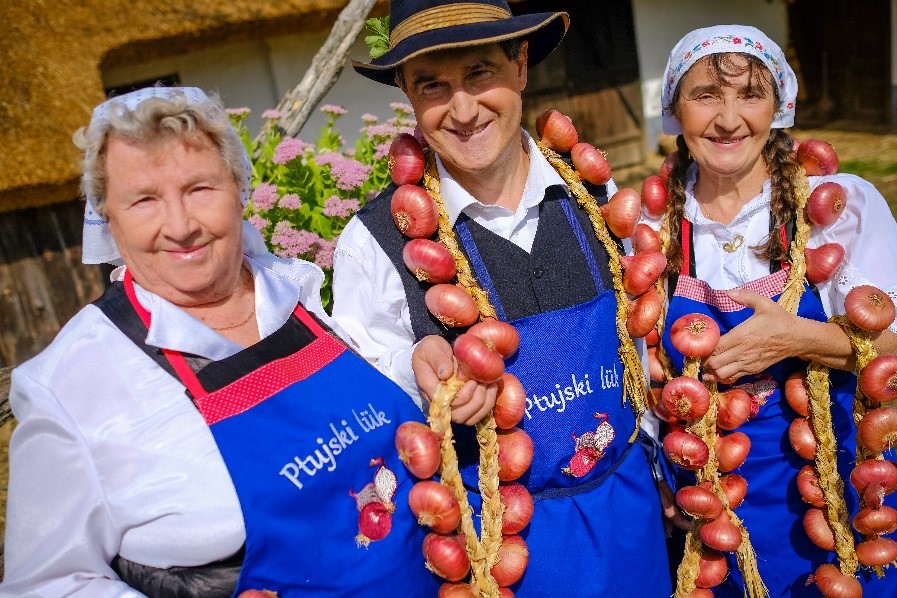 Today, this thriving family faithfully maintains tradition, growing the onions and braiding them in braids, or 'krenci', following the established family tradition. They sell their onions from late August to early March. The braids each consist of 12 onions, packed in special boxes to suit different occasions, and are also supplied in bulk, according to customer needs. The farm's motivation is to provide consumers with healthy and safe food. Their door is always open to visitors.